Made by rural communities, for rural communities and farmers.
Rural communities have tremendous knowledge about the challenges and opportunities facing rural people and how to work together to build wellbeing and social connectivity. Communities understand that to have impact, resources for farmer wellbeing must be tailored to the lifestyles and needs of farmers. We invite you to use and adapt our library of resources to start or develop a group for suicide prevention and wellbeing and to create tools that foster good mental health for farmers.
Co-design, what does that mean?
Co-design is a strategy used for farmer wellbeing that centres the views of farmers in creating resources with rural community groups. It builds on knowledge held within communities to contribute to place-based sustainability of strategies and resources.
Using co-design involved rural community groups being prompted to develop resources based on the findings from the research report, 'Tailoring Suicide Prevention to Men in Farming.' The report outlined farmers' experiences in talking about distress, access to services, peer and formal support and strategies to promote wellbeing. With facilitation by the National Enterprise for Rural Community Wellbeing, community groups then brainstormed possible resources and checked the potential of these with specific industry groups. Resources were mocked up by artists, further refined, then tested and modified.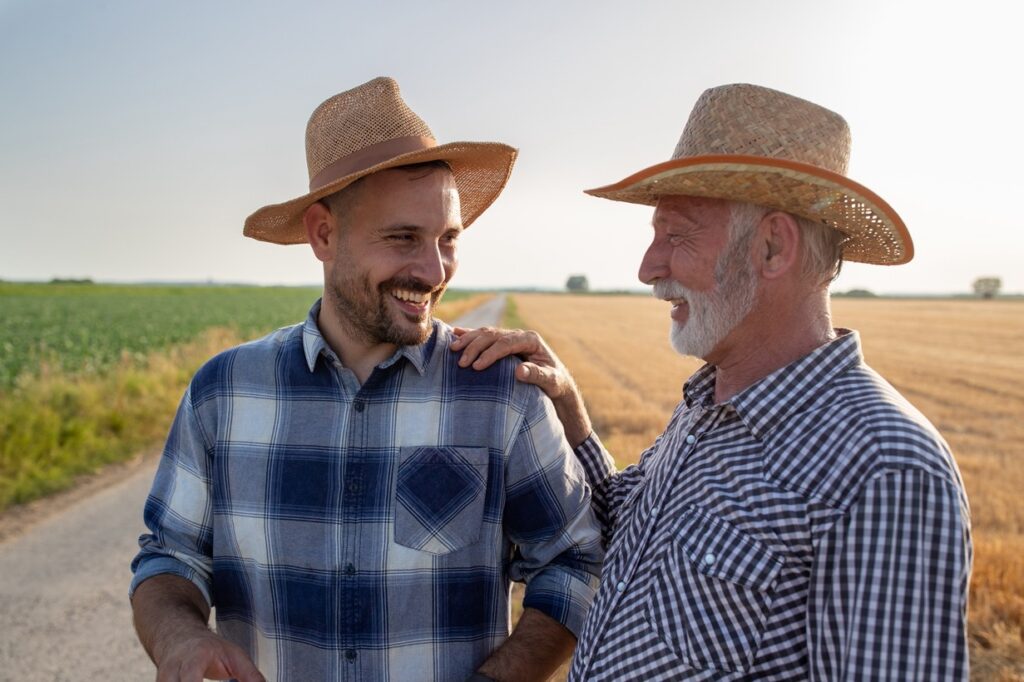 Image credit [top right]: Rob Lang funded by Country SA PHN
Responding to our own distress and caring for others in the community is 'taking stock.' Taking time to reflect and consider our emotional, physical and psychological wellbeing. Taking time to decide what to do or what is needed and importantly, responding.
The national 'Tailoring Suicide Prevention Study' aimed to take stock of how suicide prevention/wellbeing groups in rural communities were responding to farmer distress and to seek advice from farmers about what they were feeling and what types of community resources could help.
Detailed interviews with over 50 farmers informed the creation of digital and print resources co-designed with farmers and grassroots community groups—SOS Yorkes, South Australia, Riverina Bluebell, New South Wales, and Mellow in the Yellow (previously Live Rural), Victoria.
How can councils, industry and community groups help to strengthen communities?
Local councils and not-for-profit organisations, psychologists and others, can support their community to develop grassroots groups and resources for farmer wellbeing by:
Linking Taking Stock to your site and promoting us on your social channels.
Providing a place for groups to meet.
Creating a personalised directory of local services.
Showing our films at a community event about how to set up and sustain a group.
Our News
News |  12 Apr 2023
Just added! Recording of live online launch event of Taking Stock
If you were unable to attend the online launch event of Taking Stock held on the 20th Feb 2023, you can now watch the live recording! Professor Lia Bryant takes us through the research and takes us on a tour of the resources that were co-designed with rural communities and farmers. See our 'Library' tab for this and all the other videos or follow this link to watch the launch: https://takingstock.community/videos/taking-stock-online-launch-event-of-website.
News |  16 Nov 2022
Taking Stock Launch – Monday 20th February 2023
Enter Monday the 20th of February 2023, 10–12 pm ADST into your diaries! We are so excited to be launching the Taking Stock website and final report on Tailoring Suicide Prevention Strategies to Men in Farming. In addition, we will be holding the inaugural screening of a film made about rural community suicide prevention by Rob Lang for Taking Stock. The launch will be online to enable as many rural communities, farmers, health and not-for-profit organisations, agri-industry and government agencies across Australia to join us. The online link for the launch will be coming soon!
News |  24 Oct 2022
The Women, Farming and Wellbeing Project has Begun
The National Enterprise for Rural Community Wellbeing will be expanding Taking Stock to include stories and resources on mental health and wellbeing for women in farming occupations. The project is in its early stages and is being funded by the National Mental Health Commission and Wellbeing SA, South Australia. We are excited to be working with SA farming women and to co-create resources to foster wellbeing. As the study is currently SA based, and thus small in scale and scope, we invite further sponsorship of this project to extend the study into other states and to also create the resources required. Please register your interest in sponsoring this study.
Would you like to be involved?
Subscribe to our newsletter